Thank you for joining us for the 2022 West and Midwest Region USYS TOPSoccer Symposium hosted by New Mexico Youth Soccer Association, April 1-3, 2022 in Santa Ana, (Albuquerque), New Mexico. This year's symposium was held at the beautiful Tamaya Resort and Hotel located 20 minutes North of Albuquerque.
Don't forget, USYS will reimburse the costs of sending one representative from each state association from the West/Midwest region. For details on reimbursements, please contact Sandy Castillo, (West Region), at sandjules13@gmail.com or Shawn Danhouser, (Midwest Region), at sdanhouser@yahoo.com. For host state questions, please feel free to contact Michael Posen at m.posen@nmysa.net.
Presentation Downloads:
– Agenda
– Welcome Presentation (Dave Robinson, US Youth Soccer National TOPSoccer Chair)
– Including Deaf and Hard of Hearing Athletes (Nathan Gaudreault, MS Albuquerque Sign Language Academy)
– Introduction to the PECS System and Other Communication Tools (Danessa Posen, MA, TCL APS Special Education Teacher )
– Placeholder (Felicia Nevarez, M.Ed, Educational Consultant – UNM)
– Soccer for Children living with Special Needs (Emily Mason, PHD Student – University of NM)
– AYSO VIP Idea Sharing (Dan Tuuri, AYSO VIP Representative)
---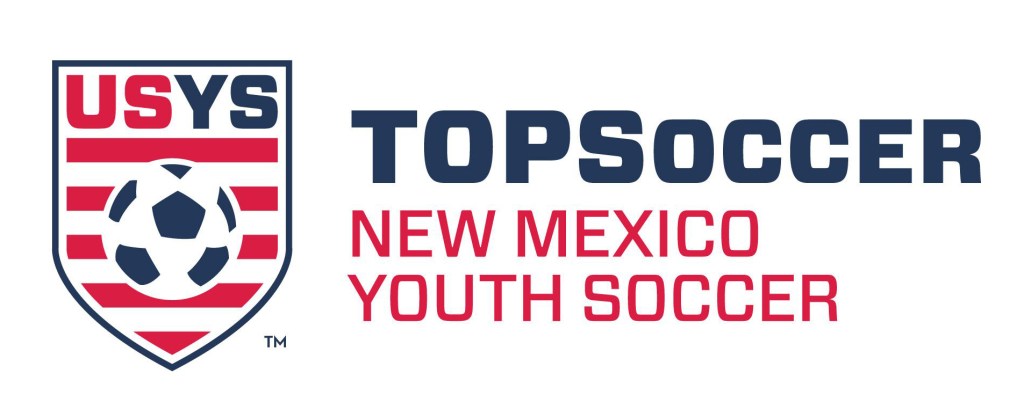 US Youth Soccer TOPSoccer (The Outreach Program for Soccer) is a community-based training and team placement program for young athletes with disabilities, organized by youth soccer association volunteers. The program is designed to bring the opportunity of learning and playing soccer to any boy or girl, who has a mental or physical disability. Our goal is to enable the thousands of young athletes with disabilities to become valued and successful members of the US Youth Soccer family.
TOPSoccer was formed to perpetuate the US Youth Soccer mission statement which is, in part, "to foster the physical, mental and emotional growth and development of America's youth through the sport of soccer at all levels of age and competition." There are thousands of children with disabilities who need, and can be provided with, the opportunity to play soccer through the TOPSoccer program.

NMYSA TOPSoccer Programs Directory:
New Mexico TOPSoccer Chair: Michael Posen nmreferee94@gmail.comDistrict 1: (Albuquerque West, Rio Rancho and Surrounding Communities)
NWRGSL/CSC TOPSoccer Program
Contact the Director Michael Posen at nmreferee94@gmail.com

District 2: (Albuquerque East and Surrounding Communities)
Coming Soon!

District 3: (Las Cruces and Surrounding Communities)
Las Cruces TOPSoccer Program
Contact LCYSA at office@highnoonsoccer.org
District 4: (Roswell and Surrounding Communities)
Roswell Youth Soccer Association TOPSoccer Program
Contact RYSA at rysa@roswellsoccer.org
District 6: (Hobbs and Surrounding Communities)
Hobbs Youth Soccer Association TOPSoccer Program
Contact the Director Alex Lopez at alexandria.lopez33@gmail.com

District 7: (Farmington and Surrounding Communities)
Four Corner Youth Soccer League TOPSoccer Program
Contact the Director Ken LaCasse at fcyslnmchairman@gmail.com
District 8: (Otero County and Surrounding Communities)
Otero County Youth Soccer League TOPSoccer Program
Contact OCYSL at ocysl14@gmail.com

If you are interested in starting a program or have questions about TOPSoccer please contact the NM TOPSoccer Chair (Michael Posen at m.posen@nmysa.net
Interested in becoming a TOPSoccer Buddy? Check out these training videos from TOPSoccer Midwest Region. Please contact the program nearest you to become a Buddy!
TOPSoccer USYS Resource Center
TOPSoccer Parents Guide (PDF)

TOPSoccer Parents Guide (PDF) – Español

TOPSoccer Activities

TOPSoccer Manual

TOPSoccer Safesport Waiver (Adult Athletes)