Welcome to the NMYSA Parent Education page. Here you will find information on current parent education programs, resources and articles concerning parent involvement in youth soccer.
---

NMYSA Launches Parent Education Program – "Caution: Children @ Play"
We all have a responsibility to promote high standards of behavior in the game.
In various national surveys, behavior was the biggest concern in the game. This included both the abuse of match officials and the unacceptable behavior by over competitive parents, spectators and coaches on the sidelines. The NMYSA "Caution: Children @ Play" program goals are to:
1. Provide all children a positive sports experience free from all forms of abuse
2. Promote exercise and sports participation for the development of healthy lifestyles that will promote wellness through the lifespan.
3. Provide a safe environment for learning positive life skills and the enjoyment of spare time in a sports experience.
4. Develop awareness of what constitutes maltreatment or abuse.
Download the Program Overview and the "Caution: Children @ Play" Code of Conduct for Parent/Spectator, Coach/Official, and Referee.
---
Parent Education Articles
---
Parent Education Video
Hollywood tough guy Ray Winstone shows his support for the English Football Association's Respect Campaign.
---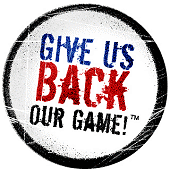 We are concerned that the beautiful game is in decline. Soccer for children is now very different from earlier generations when the only adult involvement was a call from your mom that your dinner was ready. Soccer is no longer beautiful for our kids anymore: it's ugly.
In a world where children can no longer play outside without supervision, parents and coaches have taken over. And the competitive drive adults bring to the game means youngsters no longer have time to fall in love with soccer, to play for fun and thus truly to develop their skills.
Today's children learn from the grown-ups . Without the freedom of the streets, their early experiences of soccer are organized, supervised and coached. They have no real say in what happens, and they don't have time to develop and learn.
The problem areas are:
No longer the children's game – it is controlled by adults
The same children on the bench or omitted every game
Coaches and parents screaming from the touchlines
Winning before fun and development
Not enough free play where children can solve their own problems
Children are not encouraged to express themselves
Children no longer learn about the spirit of the game for themselves
Visit the official 'give us back our game' website by clicking HERE.
---
Resources:
---
Other Useful Links: