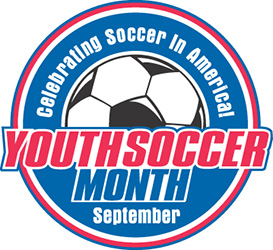 September is Youth Soccer Month.

In September 2017, the National Youth Soccer Month campaign celebrates its 15th year of educating the public about the joys, rewards and benefits of playing youth soccer, and offers a variety of resources to get involved.

Visit the Youth Soccer Month web site for a description of the program, information on how to get involved, a link to the Ball-A-Day Giveaway and other contests, and a calendar of events planned across the country to celebrate.

If your organization is planning activities in support of Youth Soccer Month, please let the State Office know about them and we will post your activities below.